Utilise the power
of Flash Loans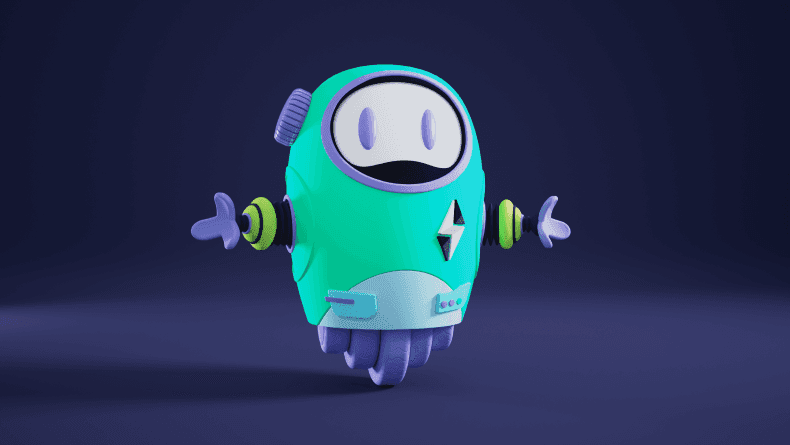 Play Flash Loans trailer
Build and execute Flash Loans
Flashloans.com allows you to build and execute Flash Loan
funded trades through a simple User interface.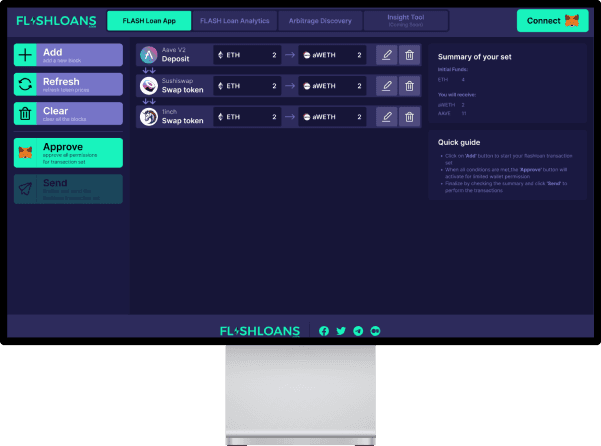 What is A Flash Loan
Flashloans are a new Defi Feature which allows you to borrow crypto funds without any collateral or signup

This is possible as the loan needs to be borrowed and repaid in the same block - if the loan amount cannot be repaid in full the transaction will not go through,,
Use Cases
Arbitrage trading
Self Liquidation
Flash Loans Academy
Flash Loan Analytics
Search out the perfect DeFi trade with Flash Loan analytics.
AVAILABLE
for
Level 1 Members
and Above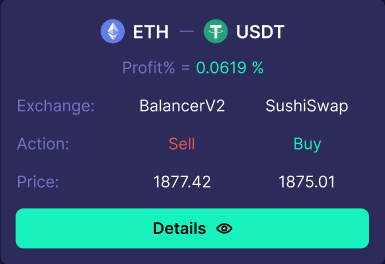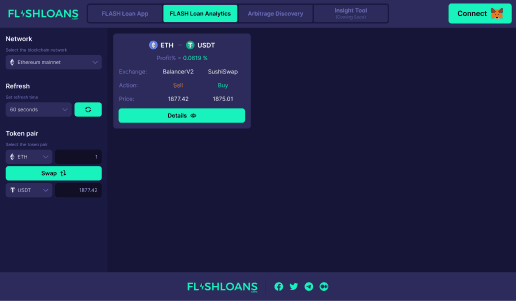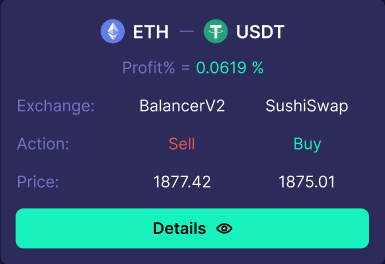 A custom tool to find arbitrage opportunities - browse by blockchain, DEX and token pair to find executable arbitrage trades. Timing is important with arbitrage trading so quickly build the trade with the BUILD TRADE button

Flashloan analytics is only available to users with a Membership level 2 or 3
Flash Token Exchanges

Our official contracts
Contracts
Ethereum Mainnet Contract Address
0x5f0366c9962193fa774cdce9602195593b49f23c
Binance Smart Chain Mainnet Contract Address
0x5f0366c9962193fA774cdce9602195593B49f23C
Bridges
In order to give the best on site user experience Flashloans.com has its own built in token bridge so users can easily swap between there preferred chains without having to leave the flash loans site.

(Coming soon)
FLASH Token Membership Benefits
Stake FLASH and receive membership benefits
Membership levels
Stake
Level
Features
Fee Reduction
None
0

Full access to the Flashloan tool

0%
10,000 FLASH
1

Level 0 features
Access to 'Arbitrage analytics
Profile saver - Create & save a complex flashloan for future use

-30%
30,000 FLASH
2

Level 1 features
Full analytics suite including 'Insight tool
All future analytics products added to the platform

-50%
100,000 FLASH
3

Level 2 features
Zero platform trading fees
Access to Flashbots.com trading bot (coming soon)

-100%

No Fees
Staking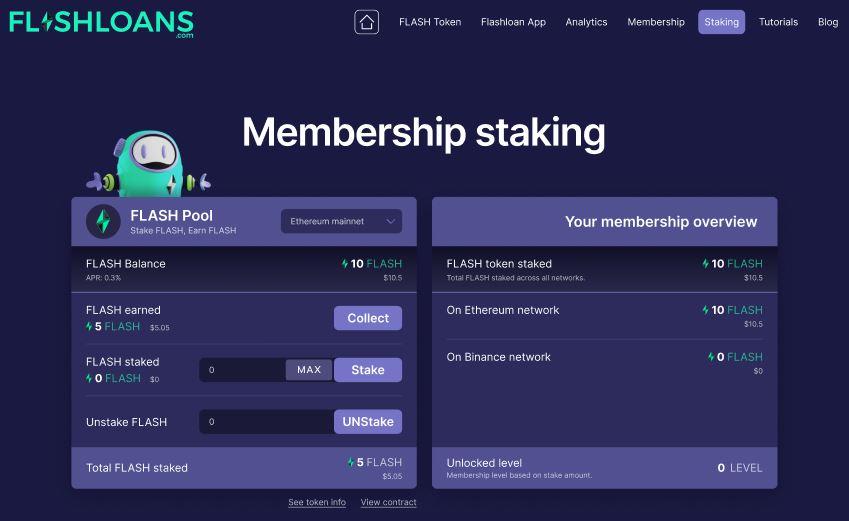 Staking FLASH grants access to unique membership benefits that will to boost your Defi trading strategy
Platform integrations
Partnerships
Launchpads
Strategic investors
DeFi ecosystem grant awarded by Aave and
MStable
FAQ's
Do Flash Loans require collateral?
No. Flash loans are unsecured and uncollateralized, meaning anyone can borrow funds and avoid liquidation fees or make profits.
Do I require a membership to use Flashloans.com?
No Flashloans is open to everyone, you can unlock additional features by Staking FLASH tokens - see
membership benefits here
What happens if you don't pay your flash loan?
A unique feature of a Flash loan is the transaction will not complete if the loan cannot be repaid in full - the only way you can borrow a Flash loan is by building a transaction which will return the loan in full.
What is the Cost of a Flash Loan?
Flashloans have no upfront fees for using the platform and a small % based commission on each transaction - this is paid to the flash loan liquidity provider for example Aave and a fee to Flashloans.com. Fees can be reduced by staking FLASH tokens in return for membership levels 1-3. Level 3 members pay no platform fees, just the loans provider borrowing fees.
Users will also need to factor Gas costs
How long does a flash loan last?
A Flash Loan is borrowed and repaid within the same transaction
Where can I learn more about Flashloans
We have created FLASH Academy to provide detailed information on flashloans and the use cases for them.
Are flash loans risk free?
Yes. Lenders don't have to worry about defaulting and can lend large amounts while borrowers don't run the risk of liquidation.